Dit artikel (uit 2014) bewaar ik voor de toekomst, waarschijnlijk halen ze bewijs als medicijn voor het Marburg virus van het internet.
https://www.army.mil/article/123173/novel_drug_treatment_protects_primates_from_deadly_marburg_virus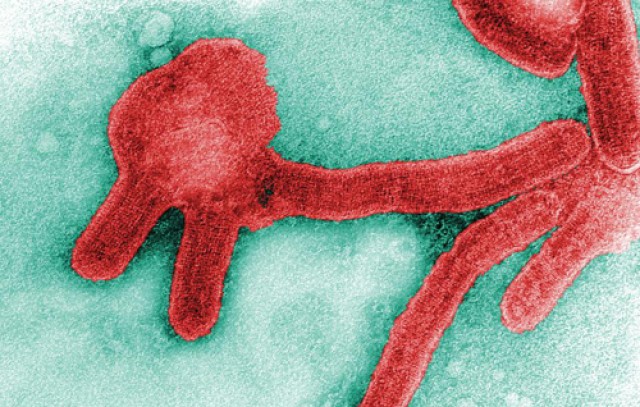 For the first time, scientists have demonstrated the effectiveness of a small-molecule drug in protecting nonhuman primates from the lethal Marburg virus. Their work, published online March 2 in the journal Nature, is the result of a continuing collaboration between Army scientists and industry partners that also shows promise for treating a broad range of other viral diseases.
According to senior author Sina Bavari, Ph.D., chief of molecular and translational sciences, the drug (known as BCX4430) protected cynomolgous macaques from Marburg virus infection when administered by injection as long as 48 hours post-infection. Bavari and his team at the U.S. Army Medical Research Institute of Infectious Diseases (USAMRIID) also found that BCX4430 protected guinea pigs exposed to Marburg virus by the inhalation route.
Marburg and its "cousin," Ebola virus, cause hemorrhagic fever with case fatality rates as high as 90 percent in humans. The viruses, which are infectious by aerosol (although more commonly spread through blood and bodily fluids of infected patients), are of concern both as global health threats and as potential agents of biological warfare or terrorism. Currently there are no available vaccines or therapies. Research on both viruses is conducted in Biosafety Level 4, or maximum containment, laboratories, where investigators wear positive-pressure "space suits" and breathe filtered air as they work.
According to the research team, BCX4430, which was developed by BioCryst Pharmaceuticals, Inc., also demonstrated activity against a broad range of other RNA viruses–including the emerging viral pathogen Middle East respiratory syndrome coronavirus (MERS-CoV)–when tested in cell culture.
"This study demonstrates the importance of government-industry collaboration," said Col. Erin P. Edgar, commander of USAMRIID. "Developing filovirus medical countermeasures is a top biodefense priority for the United States. When federal assets like USAMRIID team up with cutting-edge partners in private industry, we can make real progress toward achieving that goal."
The paper's first author, Travis K. Warren, Ph.D., a principal investigator at USAMRIID, said findings from the work show the drug acts by interfering with the internal "machinery" of the Marburg virus, preventing it from replicating its genetic material. He said the team is currently planning additional studies to determine whether the therapeutic window can be extended beyond 48 hours. In addition, BioCryst plans to file investigational new drug applications for intravenous and intramuscular BCX4430 for the treatment of Marburg virus disease, and to conduct Phase 1 human clinical trials, according to Warren.
Collaborators on the study included USAMRIID, Fort Detrick, Md.; BioCryst Pharmaceuticals, Inc. Durham, N.C.; and MedExpert Consulting, Inc., Indialantic, Fla.
The work was supported by The Joint Science and Technology Office for Chemical and Biological Defense of the Defense Threat Reduction Agency. The National Institute of Allergy and Infectious Diseases of the National Institutes of Health, Department of Health and Human Services, also provided partial support for in vitro studies.
USAMRIID's mission is to protect the warfighter from biological threats and to be prepared to investigate disease outbreaks or threats to public health. Research conducted at USAMRIID leads to medical solutions–vaccines, drugs, diagnostics, and information–that benefit both military personnel and civilians. The Institute plays a key role as the lead military medical research laboratory for the Defense Threat Reduction Agency's Joint Science and Technology Office for Chemical and Biological Defense. USAMRIID is a subordinate laboratory of the U.S. Army Medical Research and Materiel Command.
Is Fenbendazole Safe For Humans?
https://www.laurasmercantile.com/joe-tippens-cancer-protocol/is-fenbendazole-safe-for-humans/
Is fenbendazole safe for humans? This is a very common question, and rightfully so. In this article, we will discuss what fenbendazole is and what the limited research is suggesting when it comes to human consumption.
What Is Fenbendazole?
Fenbendazole is a medication used to treat parasites and worms (roundworms, hookworms, whipworms, and some tapeworms) in animals (common brand names are Pancur and Safe-Guard). However, it is also being used by humans in a cancer treatment method known as the Joe Tippens Protocol.
Fenbendazole is a benzimidazole, a class of microtubule-destabilizing agents. Other benzimidazoles, including albendazole, parbendazole, mebendazole and flubendazole have already been shown to have promising results in humans. While there have been very few scientific studies done on the possible cancer fighting benefits of fenbendazole, one such study suggests that fenbendazole has "been safely utilized as an anti-parasitic for various different animal species and could be repurposed for treating human malignancies."
Another study states that the "repurposing of veterinary drugs showing promising results for human use can result in considerable time and cost reduction required to develop new drugs."
Is Fenbendazole Safe for Humans?
While little research has been done on the effects of fenbendazole and human consumption, studies have shown that the medication is typically tolerated well by humans, and thus far, has not reported any major side effects. While we can't state that fenbendazole is safe for humans, the research appears promising.
According to a 2018 study, Fenbendazole (methyl N-(6-phenylsulfanyl-1H-benzimidazol-2-yl) carbamate) is a broad-spectrum benzimidazole anthelminthic approved for use in numerous animal species. Repurposing of veterinary drugs showing promising results for human use can result in considerable time and cost reduction required to develop new drugs. Fenbendazole is known to have a high safety margin and most species tolerate it very well. It has very low degree of toxicity and high degree of safety in experimental animals.
Another study also discussed the potential side effects of using fenbendazole in humans. "Based on limited human data it appears that doses up to 500 mg per person did not result in adverse effects," the study states. "Moreover, single doses up to 2,000 mg per person were reported to cause no adverse effects."
What Is the Joe Tippens Protocol?
The Joe Tippens Protocol was created by a man who had initially been diagnosed with small-cell lung cancer. He underwent treatment, but the cancer eventually spread to his neck, right lung, stomach, liver, bladder, pancreas and tail bone and he was given only three months to live by his doctors. Not wanting to give up, Joe decided to try a more unconventional method.
There were reports that a scientist from Merck Animal Hospital had cured her stage four brain cancer using the canine medication after performing research on the drug and its effects on mice. Joe Tippens was determined to do the same. He started his regimen of fenbendazole and then added curcumin and CBD, thus creating the Joe Tippens Protocol.